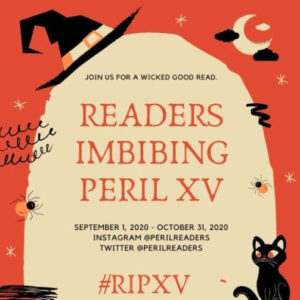 It's baaack… Are you ready for some spooky and thrilling reads? I know I am and so once again very excited to join in the Readers Imbibing Peril Reading Challenge, which is now in it's 15th year. Isn't that amazing?
And, this year it's even easier. You don't need to have a blog or post all your reviews. All you need to do is tag @PerilReaders and #ripxv in your Instagram posts. It's that easy. 
The challenge starts September 1 and runs through October 31st. You can read as many reads as you want and you decide how spooky your reading can be.
I tend to read a lot of mysteries throughout the year so for this challenge I try to focus on more ghostly/horror type stories.
The past few years I've tried reading a classic horror/mystery story and have finally read Frankenstein and Dracula.
This year maybe I'll finally get to The Turn of the Screw by Henry James or maybe do a re-read of Interview with a Vampire by Anne Rice which I read when i was in my 20s. Well no matter what I end up choosing, I'm sure I'm going to enjoy it.
Last but definitely not least, thank you to Carl V. who started this wonderful challenge and for Andi and Heather who've continued the tradition.
Who all is in and what are you reading?