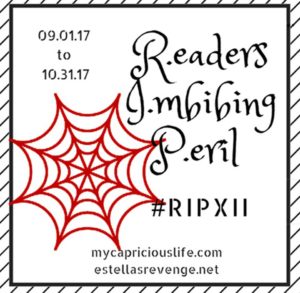 It's time to get spooky! As most of you know, it's time for the annual R.eaders I.mbibing P.eril challenge. The R.I.P. challenge was started 11 years ago by Carl from Stainless Steel Droppings is now being hosted by Heather and Andi.
Between September 1 through October 31 it's time to indulge in mystery, suspense, thriller, dark fantasy, gothic, horror and the supernatural. There are various Perils you can participate in as well as group reads and even including film.
I'm going to attempt to do Peril the Second which involves reading two books that fit within the challenge categories. Ideally I would like to read more but we'll see. I'll also try to incorporate at least one short story and a film.
I've actually already started my challenge with Frankenstein by Mary Shelly. So far it is wonderful. Just like Dracula which I read several years ago, although I "know" the story from watching so many versions on screen it is quite something else to read the original.
And, because it's always fun to include a picture of potential challenge reads, here are some I'm considering. Some short stories and novels. Yes, some of these have been featured in past posts. Shh, don't tell. Oh and don't you like the little witch figurine? I bought it on one of my trips to the Harz in Germany. The Harz is a place filled with charming villages and towns and lots of folklore. Unfortunately this year we didn't get to go to the Harz but hopefully next year. Anyway, back to the picture!
Now tell me, are you joining and what are you reading? From my stack is there one you think I should pick up after I'm done with Frankenstein?