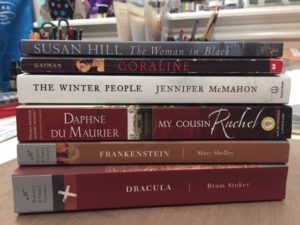 It's that time of the year – Readers Imbibing Peril Challenge and now in it's 13thyear. Created and hosted by Carl V. for many years, in the past couple of years Andi & Heather have taken over the reigns of this fantastic challenge.
You know I enjoy reading challenges even if I hardly ever complete them, but I've joined the R.I.P. challenge almost every year and I even complete it. I love spooky reads and Halloween is my favorite holiday so this is one challenge I can't miss.
If you aren't familiar with the rules, there are several levels. I will be doing Peril 1 which means reading four books between September 1 through October 31. The books can be anything from mystery, gothic, suspense, thrillers, supernatural, etc.
Of course the most important part of the challenge, you must have fun. I have no doubt I will.
While I typically post about the books I want to read, this time I'm going to share some of my favorite reads from past R.I.P. challenges. Several classics and some other books that I think are probably well on their way to being new classics in horror. Also in case you missed it, NPR recently listed the 100 Best Horror Novels and Stories. I'm very happy to note that most of the books I have on my stack are included in this list.
Let me know if you are joining in on the challenge and what you plan to read. I'm a bit late getting started but I think I'll start a new spooky read tonight so I'll let you know soon which one I selected and how it's going.