I think at the rate I'm going, I'll never do full write ups on some books so instead I'll give you some quickie reviews and share with you what I thought. Here it goes: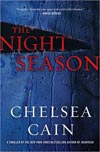 The Night Season by Chelsea Cain started off with a very atmospheric setting. The rain is coming down fast and hard in Portland, Oregon and Detective Archie Sheridan newest case is a drowning victim found at an amusement park. To make matters worse a young boy is missing. The Detective along with his team and reporter, Susan Ward, race against time as they realize that the victim was actually murdered by a powerful toxin. This is the fourth book in the Detective Sheridan series but while it does pick up after the events of previous books it doesn't feature the same serial killer that the first books had. I thought the pacing and action were good but when the mystery was revealed I found it to be very over the top. Sure you have to have memorable villains and all but you should also have to buy into the story. Not a favorite read.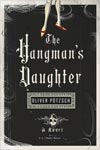 The Hangman's Daughter by Oliver Potzsch features a hangman in Germany in 1659. The town doesn't particularly like the hangman or his family, because he is not of their same class, but they sure are eager for his services when there is a man to hang on in this case a witch to be brought to justice. When several young children are found dead and with the mark of a witch on them, the townsfolk immediately call for the hanging of the town's midwife. The hangman knows Martha and knows she would never have committed the crimes she's accused of but he still must play his part and meanwhile try to find out who is the killer. The people claim that the devil roams among them and more children are going missing. While I thought this book had several flaws, in particular a lot of the characters seemed to blend into the same one, it was certainly interesting and steeped in just the right amount of historical detail where you aren't overwhelmed but still get a good sense of place.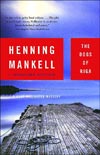 The Dogs of Riga by Henning Mankell is the second book in the Inspector Wallander series. A raft with two dead men washes up on a beach in Sweden. When the Inspector gets the call and goes to investigate immediately he finds that the men were shot dead and as he soon realizes, the men were not Swedish and it looks like the crime was a hit. Inspector Wallander's case however almost seems to be an open and shut case until a visit from a police officer from Latvia leaves him with more questions than answers. Inspector Wallander travels to Riga but finds the country cold and not so welcoming. He doesn't know who to trust and he doesn't know if he'll even make it back to Sweden. Despite all of the setbacks Wallander there is even a bit of romance in store for the inspector. It had been a while since I had read the first Wallander book but reading this one reminded just how much I enjoyed the Inspector. I'll definitely be back to this series.
So that's it for now, I still have quite a few more books to tell you about so I hope you'll enjoy these quickies. If you've read these let me know what you thought.