I don't know what it was about today but I felt like all I did was rush around. Go do this errand, take care of one more thing, rush to bookbinding class and quick gotta stop at the library to pick up a hold. I'm kind of tired.
Bookbinding class was fun but a bit more mentally taxing. I need to remember so many things. I walked out and was still replaying some of the stuff I learned, but I am excited because I finally see my book taking shape. Today, I'm got to place a headband and use a combination press for casing in my signatures. Ultimately my book should look something like this. Wish me luck.
I wish I had taken my camera with me to show some pics of the work in progress but I'm liable to get glue all over it. Instead I'll show you what's sitting on my craft table at home. All nicely folded, my paper is just waiting for me to get the sewing itch. These signatures are for a completely different type of book.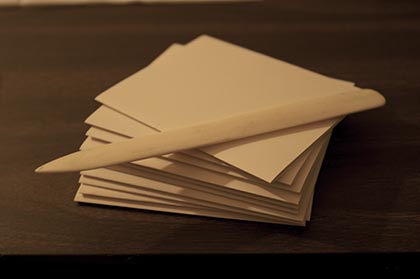 Oh and in case you are wondering what I got at the library? Some videos for my mom and for me a copy of Last Night at the Lobster by Stewart O'Nan after hearing a review of it on NPR. Only one book – I told you it was a quick visit.