I managed to forget to take my camera to bookbinding class again so no pictures of my books in progress (I have two different books in the making) but instead I'll show you what I've been doing lately: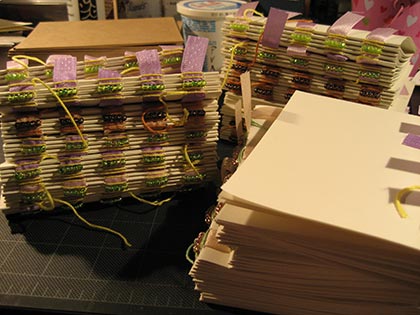 See all of these stacks? These are Beaded Journals that I'm working on for a bookbinding order! I need to have 40 ready in the next few weeks so lately I've been cutting paper, sewing, and glueing up boards. It can be a bit tiring but it's so much fun to come up with color combos, choose paper and just do something I really enjoy.
So now you know that I'm not just being a lady of leisure around here. ha,ha…
Moving on, I did finish Evening is the Whole Day by Preeta Samarasan. This was a tough book for me to get through. I found the descriptions lush and beautiful but I kept thinking the story was going nowhere. As this was an ARC, I'd love to pass it on to someone who is interested in it and perhaps you'll enjoy it more than me. So if you'd like to read this, leave me a comment and I'll draw a name by Friday.