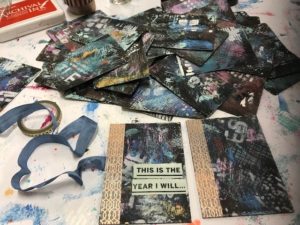 I hope you all had a great weekend. I had a fabulous time at my workshop! I went to Waxahachie on Friday and was actually able to meet up with a friend of mine who drove down from Dallas to meet me. We had a lot of fun catching up and had a really nice dinner at a local restaurant. We could have stayed up talking much longer but I had to be at my workshop at 10 the next day and wanted to make sure I was ready for it.
My workshop was led by artist Seth Apter at The Crafty Scrapper, a super fun store where I could have seriously spent a lot of money. I had done a workshop with Seth Apter when I went to Epherma Paducah a couple of years ago with a friend of mine and just really enjoy the way he teaches and of course I love his style.
This workshop was the 52-Deck Card Pick Up. We had to do some pre-work before the class and that was to take a deck of cards and cover them up front and back with black gesso. During class Seth talked about the process of layering paint, how to do a type of mono print and color composition. The idea of the 52 card deck is to use it as a journal for a year – basically one card a week so that in a year you have completed a journal. So needless to say, this will be a work in progress for a while.
I met some great ladies in the class, learned some new techniques and overall had the best time. Oh and bonus, on the drive back home I finished an audiobook. Now to get ready for bed and back to work tomorrow but I'll have to tell you about some fun stuff I picked up at the workshop and other goodies.