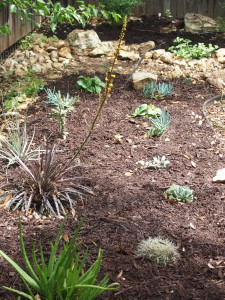 I took a three day weekend to catch up on some home stuff but we also made the most of it and went to the Wildflower Center's annual plant sale. Love the Wildflower center and love the plant sale.
Our backyard is pretty shaded so we had to look for shade plants but we also want native plants, low water plants and plants that are heat tolerant. Kind of need that in Texas! We left the plant sale with a bunch of new plants for the backyard and we even added two more to our succulent garden. A Nolina Texana (which you can't really see here) and a Cane Cactus.
My husband spent most of the weekend planting in the garden and we just have a couple of more to go. I can't wait to see our plants growing and thriving.
The other exciting thing we did over the weekend was attend the Austin Poetry Slam finals. Ten poets were competing to get on the team which is going to represent Austin in the national competition later this year. They really had some great talent. I'm always so impressed by people putting themselves out there. I can't believe I haven't gone to a slam in such a long time.
So how about you, what were you up to this weekend?