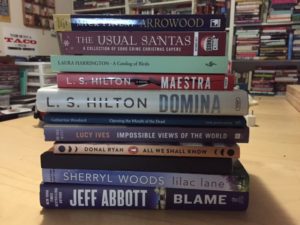 Happy August and what a way to welcome in the new month. I have a huge pile of ARCs that have arrived and let's get right to them.
Arrowood by Mick Finlay. When the rich turn to Sherlock Holmes, the poor go to Arrowood. A self-taught psychologist, occasional drunkard and private investigator.
The Usual Santas. A Collection of SOHO Crime Christmas capers. I'm typically not a fan of holiday-themed mysteries but these are more of the noir variety so I think they should be fun.
A Catalog of Birds by Laura Harrington. The story of a family and a community confronted with a loss of innocence and wounds that may never heal as they live through the legacy of war.
Maestra by L. S. Hilton. The beginning of a dark trilogy. I know this book has been talked about a lot.
Domina by L. S. Hilton. The second book in the trilogy which follows femme fatale Judith Rashleigh into the underworld of Europe's elite.
Opening the Mouth of the Dead by Catherine Woodard. This is a new poet to me so I'm very excited to read the collection.
Impossible Views of the World by Lucy Ives. A witty, urbane, and sometimes shocking debut novel, set in a hallowed New York museum, in which a co-worker's disappearance and a mysterious map change a life forever
All We Shall Know by Donal Ryan. Melody Shee is alone and in trouble. At 33 years-old, she finds herself pregnant with the child of a 17 year-old Traveller boy, Martin Toppy, and not by her husband Pat.
Stay With Me by Ayobami Adelbayo. Shortlisted for the prestigious Bailey's Prize and set in Nigeria, this novel gives voice to both husband and wife as they tell the story of their marriage–and the forces that threaten to tear it apart.
Lilac Lane by Sherryl Woods. Keira Malone, who raised her three children alone after her first marriage broke apart, and who, after years of guarding her heart, finally finds love again
Blame by Jeff Abbott. Two years ago, Jane Norton crashed her car on a lonely road, killing her friend David and leaving her with amnesia. At first, everyone was sympathetic. Then they found Jane's note.
Wow, that's a lot of new books. And, I haven't even gotten around to telling about some of the eGalley's I've received. I think I better get reading now.
So how about you, did you start the month with some new books?