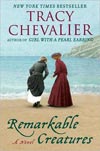 I started reading Remarkable Creatures by Tracy Chevalier and I'm absolutely immersed in the world of Elizabeth Philpot, a spinster who would rather hunt for fossils than anything else. It's shaping up to be a fantastic read but I have to say, pictures would be great with this book.
Elizabeth mentions a lot of the finds and she describes them but being that I really have no knowledge of anything like this I can't help but wonder what are ammonites, belemnites, Devil's tonails and so on. I've been doing a bit of Google searching that's for sure. Here's a snippet of what Elizabeth feels when she's on a hunt:
"For myself, it took only the early discovery of a golden ammonite, glittering on the beach between Lyme and Charmouth, for me to succumb to the seductive thrill of finding unexpected treasure. I began frequenting the beaches more and more, though at the time few women took an interest in fossils. It was seen as an unladylike pursuit, dirty and mysterious. I didn't mind. There was no one I wanted to impress with my femininity."
There's a lot more I could rave about and I'm only about a quarter of the way into the story! So, let me get back to that and I'll let you get back to planning for the weekend. Anyone have big plans? I'm hoping to finally get some Christmas shopping done and hopefully a lot of reading. Happy weekend all!