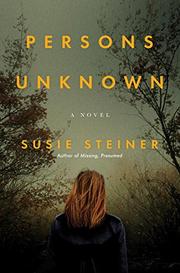 "He's really scared now; nervously places a hand to his chest. His shirt is wet through but it's not raining. He looks at his hand. It is glistening dark; the color unclear because of the dark and the orangey street lighting. He starts to panic, cannot fill his lungs. What is happening to him?"
Persons Unknown
By Susie Steiner
Source: Advance review copy
In this sequel to Missing, Presumed, Detective Manon Bradshaw is busy raising her adopted son, Fly, and pregnant. She is now working cold cases but she is happy to have some time to adjust to her new life. The move to Cambridgeshire has not been easy for Fly, he's twelve years old and is probably finding it hard to adjust to new surroundings and the upcoming new family member.
However when Jon-Oliver, a prominent businessman, is found stabbed, Manon finds herself deep in the investigation as some of the leads point to those she loves. Jon-Oliver is connected to her sister and nephew and then when CC TV footage reveals that Fly may also have a connection Manon can't help but be involved.
Manon is told to keep her distance because she is closely-related but she can't in all good conscience do that especially when she is good at her job. She is determined especially to help her son after he's had such a hard time being away from his friends and dealing with all the changes.
I found the start of this book so disjoined from the first book. How is it that Manon is now five months pregnant and doesn't think that would have an impact on Fly who she just recently adopted. It almost felt like I was missing a book in between. In addition, I thought Manon made some serious errors in judgement during the investigation and of course it's all because she's doing it for those she loves but it drove me crazy.
I really loved the first book because Manon is depicted as an intelligent woman who is still young and trying to figure out life. So yes, she makes mistakes and is vulnerable but it was more relatable. Needless to say I had high expectations and unfortunately this book did not meet those.