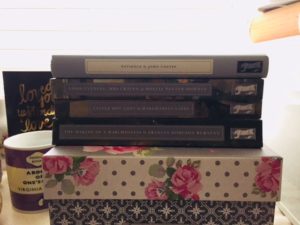 What a great way to start the month – with some Persephone books! I don't pretend to think I'm going to read all of these in a week. I'll be honest, I may just finish one in the month as I tend to juggle several books all the time. Still, I'm excited about the Persephone Readathon because I've been neglecting my beautiful gray stacks.
I actually thought I had more and I do but those have been read. I have eight other Persephone books in my collection. Now I do need a little help because I'm not sure which book to start with for this readathon so let me know what you think.
Patience by John Coates. A story about a proper girl, improperly in love. Sounds a bit risqué. Check out the original cover and isn't the end paper beautiful? I wish I could get my hands on that paper for my own bookbinding projects.
Good Evening, Mrs Craven by Mollie Panter-Downes. These stories explore aspects of English domestic life during the war, they are about separation, sewing parties, fear, evacuees sent to the country, obsession with food, the social revolutions of wartime.
Little Boy Lost by Margharita Laski. Hilary Wainwright, poet and intellectual, returns after the war to a blasted and impoverished France in order to trace a child lost five years before. The novel asks: is the child really his? And does he want him?
The Making of a Marchioness by Frances Hodgson Burnett. I loved The Secret Garden as a child and I may have had this book at one time but I don't believe I ever read it.
Thanks again to Jessie of Dwell in the Possibility for hosting the readathon. Hope everyone has a great time reading.
Now, off to plan the weekend because I have some stuff I want to do and I promise I'll tell you more about that in my next post. Have a fabulous weekend and more book talk soon!