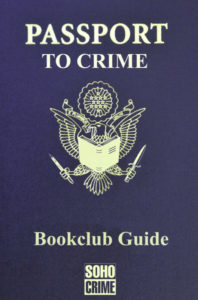 I hope you all had a wonderful weekend. Despite having the holiday off my weekend was hectic. My bags were barely unpacked from our vacation but I had to grab a bag and passport and make a quick trip to Monterrey, Mexico for my goddaughter's wedding.
We haven't had a wedding in our family in such a long time so this was kind of exciting. There were some issues that popped up, I guess that's the norm for weddings right? But, the bride was beautiful and the wedding was lovely.
So I didn't get a lot of reading done but we made the most of our day off on Monday to go hang out at the bookstore for a little while. I noticed that SOHO Crime has their Passport to Crime Series special editions out. These are the first books in many of the publisher's popular series. I don't know if these have been out for a while but it was the first time I saw them on the end cap at my local B&N.
Given that I had a coupon and that these books are selling for $9.99, well I couldn't pass up the opportunity to pick up one. I chose The Dragon Man by Garry Disher. Have you read this one? What did you think? Oh and a tip for you, if you purchase your books through Soho Crime they are actually listed for $7.99.
This week my goal is to get to the library to pick up a couple of holds (so much for my Library Ban) and maybe start putting some mini reviews together from the books I read while on vacation.
What are you up to this week?