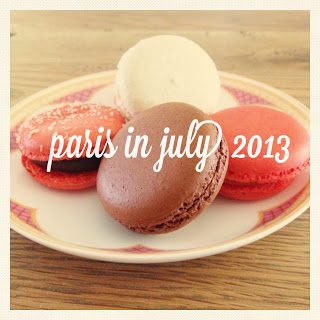 Today was so not going to be a post about dreaming about Paris but thanks to Danielle and Marg, I saw that the Paris In July reading challenge hosted by Karen and Tamara is back! Now in it's fourth year. How could I have missed that.
I've never been to Paris, although for a couple of hours I will be setting foot in Paris when we travel later this summer, but in the meantime why not indulge in some reading set in Paris?
It's funny because at first I thought I don't have any books set in Paris and after a very quick glance at my bookshelves, look at what I found:
I know I've been very reluctant about joining reading challenges this year but I don't know, now I'm excited about them all over again. Besides this challenge is easy because you can also participate in other ways – watch a French movie, eat some French food, listen to some French music. Lots of possibilities and fun ways to enjoy the challenge.
So who else is joining and what are you planning to read/do?