I know I haven't posted an update about my participation in the Paris in July reading event but I did manage to read two books with a Parisian setting this month. And, of course, I'm sitting here dreaming about walks along the Seine, touring the Louvre and eating croissants at a quaint cafe. One day but in the meantime let's take a look at the books I read.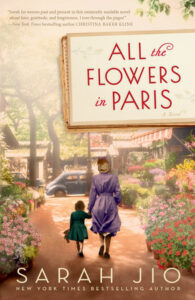 All The Flowers in Paris
By Sarah Jio
"But what does any of it matter now? Over time, Paris has become my hiding place, my cocoon, my escape from the pain of the past. I blink back tears. And now? Does he really think he can just waltz in and expect to behave as if nothing happened? That everything should just magically go back to the way it was?"
From the intro it may sound like Caroline is suffering from a romantic breakup but her life is a lot more complicated than that. She is soon involved in an accident that wipes her memory and as she visits places near her apartment she realizes that she may not have been a very nice person given how others react to her. If only she could unlock her memories.
The narrative takes the reader back to the same street of Caroline's apartment but during Nazi-occupied Paris. Celine, her young daughter and father live comfortably and own a lovely flower shop but the menace of war is all around them and soon they won't be able to escape the enemy.
I admit I was much more interested in the war time setting than the modern day. I also found a few things that just didn't add up in Caroline's story but overall did I was totally entertained by this book and would certainly read another by this author.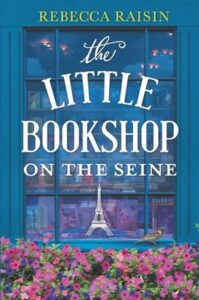 The Little Bookshop on the Seine
By Rebecca Raisin
"What exactly was I searching for? My friends were getting married and having babies. Buying houses and redecorating. Starting businesses. My life had stalled. I wasn't an introvert, happiest hiding in the shadows of my shop, reading romances to laze the day away, between serving the odd customer or two – yet, it wasn't enough. In small-town Connecticut, there wasn't a lot to do. And life here – calm, peaceful – was fine, but that's just it, fine was't enough anymore."
Sarah Smith may have a gorgeous boyfriend, steadfast friends and her little bookshop but she often feels like everyone is doing and she's just sitting there waiting for things to happen to her. When her boyfriend is yet again gone on another photo journalism assignment across the world she is feeling sorry for herself and eagerly accepts to trade "bookshops" with her friend Sophie.
Sophie owns the popular Once Upon a Time bookshop in Paris and she needs to escape the City of Lights after a heartbreak so surely these two can easily swap bookshops. Of course Sarah, never having set foot outside of the U.S., is in for a rude awakening but at the same time this may be just what she needed to gain a bit of self-confidence and learn how to stand up for herself. She has to deal with difficult employees, a boyfriend who she thinks may want to break up with her and figuring out how to make the most of things.
I have to say I was expecting the whole boyfriend situation to go in a different direction but this is a romance. Often I lost patience with Sarah and how easily some people just took her for granted but overall it was a light-hearted story which took me along Parisian streets where I could imagine myself doing some window shopping.
Both of these books were Advance Review Copies from NetGalley.
Thank you to Marg and Tamara for hosting such a fun reading event. During this time when we can't travel it was wonderful to imagine traveling to Paris via books and blog posts.