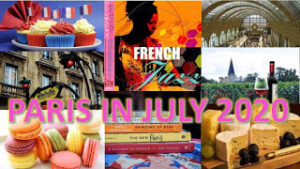 We may not be traveling due to the pandemic but thanks to a couple of reading events we can do some armchair traveling. It's time for Paris in July hosted by Tamara at Thyme for Tea. I've participated in this event a few times but as we usually travel during this time, it's not one I get to do often.
We've been traveling to Europe over the past 20 years but unfortunately the only time I set foot in Paris (or anywhere in France for that matter) was a couple of hours layover at the airport. One day we will make it there but for now I can turn to my books set in Paris to give me a glimpse of the beauty that awaits us.
I decided to look through my stacks (and ebooks) to find books with Paris in the title. I have to say I was a bit shocked at how many I have but I guess that goes to show I do want to go there one day. Anyway here's what I have to choose from:
The Paris Architect by Charles Balfour. An extraordinary book about a gifted architect who reluctantly begins a secret life of resistance, devising ingenious hiding places for Jews in World War II Paris.
All the Flowers in Paris by Sarah Jio. Two women are connected across time by the city of Paris, a mysterious stack of love letters, and shocking secrets sweeping from World War II to the present.
Paris Never Leaves You by Ellen Feldman. Living through World War II working in a Paris bookstore with her young daughter, Vivi, and fighting for her life, Charlotte is no victim, she is a survivor. But can she survive the next chapter of her life?
Paris, 7 A.M. by Liza Wieland. June 1937. Elizabeth Bishop, still only a young woman and not yet one of the most influential poets of the 20th century, arrives in France with her college roommates.
The Paris Library by Janet Skeslien Charles. Based on the true World War II story of the heroic librarians at the American Library in Paris, this is an unforgettable story of romance, friendship, family, and the power of literature to bring us together.
Paris Metro by Wendell Steavenson. From the American invasion of Iraq in 2003 to the terrorist attacks in Paris in 2015, Paris Metro is a story of East meets West.
The Paris Key by Juliet Blackwell. An American in Paris navigates her family's secret past and unlocks her own future, in this emotionally evocative novel
Vanessa Yu's Magical Paris Tea Shop by Roselie Lim. Ever since she can remember, Vanessa has been able to see people's fortunes at the bottom of their teacups. To avoid blurting out their fortunes, she converts to coffee, but somehow fortunes escape and find a way to complicate her life and the ones of those around her.
I'm sure there are probably more on my shelves but these are just the ones I've kept track of in my book database. Have you read any of these? Is there one you recommend? I will definitely try to read at least one book for this reading event and better why not try to read and Recreate a Day in Paris at Home.
Next up another reading destination. Oh where will we go?