"True happiness comes from the joy of deeds well done, the zest of creating things new." ~ Antoine de Saint-Exupery.
This is so true. Aside from running some errands and yoga, my weekend was spent in the studio creating. I was on a roll. I had a great glue day. My husband laughs when I say that but really sometimes it seems like things fall apart right at the last moment but this time everything was falling into place as it should.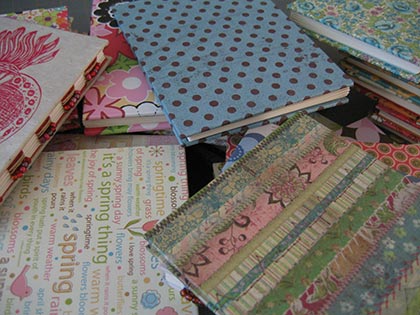 I had music and coffee helping me as I turned text blocks into books. I finished 36 books for the shops this weekend. Of course all the sewing had been done before so it's not like I was starting from scratch but still I'm quite impressed with what I accomplished. I also had to take pictures of all 36 books so I can add them to my Etsy & Artfire shops.
The best part is that even though I was physically tired, my creativity was all fired up and thinking of new projects. I can't wait to go to the craft store this week in search of some supplies.
I also finished The Little Stranger by Sarah Waters. I know this has received some mixed reviews but I enjoyed it. I will try to do a write up of it soon, and you know this means I finished my R.I.P. Challenge! I read The Leavenworth Case and The Little Stranger to complete the Second Peril. Yay. More on reading challenges and other books in progress soon.