I meant to post yesterday because I was all excited about a new find at the bookstore but my Senseo coffee maker decided to stop working (I think I had it for 10 years!) and I spent a good bit of time searching for a new coffee maker. I really liked my Senseo but it is hard to find the coffee pods so I finally relented and went with a Keurig. Good thing we use a Senseo when we are in Germany so I'll have to take my leftover coffee pods on our next trip.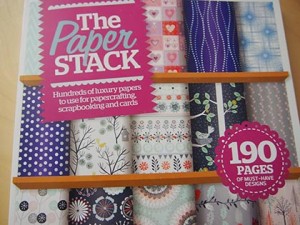 Anyway now to the bookstore find. Guess what I found on Friday? More paper goodness! The Paper Stack is a 190 page bookazine from the publisher of PaperCrafter Magazine and it's full of designer papers.
There is a lot of variety of prints with the only downside that all the paper is double-sided and wouldn't you know it that some of my favorites are on one piece. I'll have to make a tough choice when I finally pick one to use. I like that most of the designs have small prints which lend themselves better for the journals I make.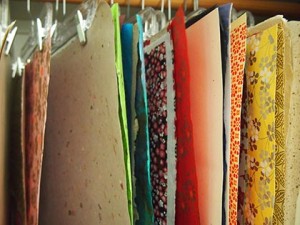 I'm tempted to subscribe to this one but as it's from the U.K. it's a bit pricey. And, it's not really like I need more paper. Have I shown you my studio closet? Here's a peek. I just can't help it…  I love pretty papers. These papers hanging in my closet are large sheets that I don't want to keep rolled up. Of course I also have storage boxes filled with paper.
You know where I'd love to go one day? To the Hollander's shop. Talk about a paper paradise!
Anyway, that's my weekend adventure. Hope you all are having a great week!