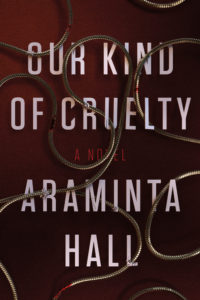 "The rules of the Crave were simple. V and I went to a nightclub in a predetermined place a good way from where we lived. We traveled there together but entered separately. We made our way to the bar and stood far enough apart for it to seem like we weren't together but close enough that I could always keep her in my vision. Then we waited."
Our Kind of Cruelty
By Araminta Hall
Source: Advance review copy
Mike and Verity were meant to be. They are young, smart and have each other but when Mike gets the opportunity to work in the States, Verity encourages him to go for it even if it means they will be apart for some time.
When the couple reunites after a few months the cracks in their relationship can't be mended and Verity breaks up with Mike. He knows he did a stupid and unforgivable thing but he will do whatever it takes to win her back.
Verity has stopped taking his calls and has even gone so far as to get engaged with another man but the more Mike thinks about, he knows that Verity has just changed the rules of their game, the Crave, to make him suffer and earn back her love.
That's okay, Mike is willing to play.
The novel is told from Mike's perspective so the reader sees all the obsessive and delusional behavior that Mike displays but will Verity be free or is she really playing just a more amped version of the Crave. At times I wish we could have had Verity's perspective because I had some doubts about events but in the end I'm happy we only got Mike's version. If you like psychological thrillers give this one a try.