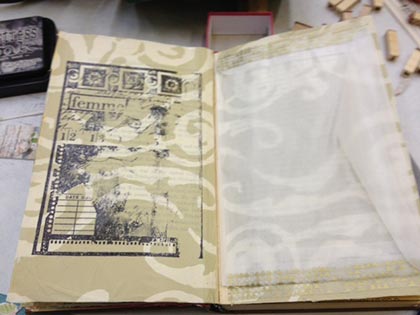 Had another fun evening at my altered books class. First, I glued tissue paper onto the book pages which you can't tell here but it's really cool because you can still see some of the original book text. On the right page I decided to attach a glassine envelope with some washi tape. I figured I could use the envelope to stash a little card or picture. Oh and have I told you I'm addicted to washi tape? More on that in another post.
Our instructor brought some of her rubber stamps with her and I love stamping but most of my stamps are small and she had this great, big funky stamp. I wanted to try it on the tissue paper. So as you can see, although I realize the picture is not that great, part of the image got lost. I don't think I pressed hard enough and I get the feeling the book moved as I was pressing on it. It's starting to lose some of its sturdiness as I've been cutting pages out.
Anyway, that image is supposed to be this one. Yeah, big oops! So now I can decide if I want to cover it up or maybe I just let it go. I think I' may just add more stuff to the page around it so it's not just a weird stamp in the middle. Who knows.
It is fun to play in this because I don't mind if I make mistakes. Not so when I'm bookbinding! Anyway, just wanted to share.
Oh and I forgot to mention, if you ever want to try your hand at Altered Books I highly recommend it but just make sure you aren't working on a book like this one!