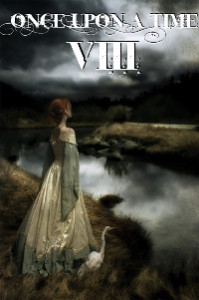 It's that time of the year again to dig into myths, fantasy, folklore and other-worldly reading. Thanks to Carl V. who hosts the Once Upon a Time reading challenge, now in its 8th year, the most important goal in this challenge is to have fun. I can definitely get onboard with that!
There are different levels of participation and I first I thought I was just going to go with The Journey which just requires one book but I decided to just jump in and go for Quest the First which is to read at least 5 books that fit somewhere within the Once Upon a Time categories.
I don't have a list of books yet but I was thinking some books I could read would be The Time Machine by H.G. Wells and some of the fairy tales from the Brothers Grimm, thus also incorporating some classics. I have books on my shelf by Connie Willis, Charles de Lint and Jo Walton. And then I thought how about Steampunk? A novel like this one would qualify for this challenge right?
Alright, it's time to go look for some potential reads! By the way isn't the art for the challenge button beautiful?