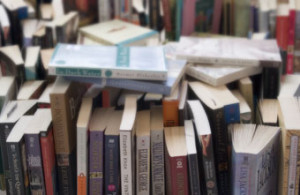 I thought it was time to do a bit of a recap on what I'm currently reading. I'm trying not to have too many books going on at once as otherwise I feel like I make no progress in them. Granted, I have one here that was my first book of the year and I'm only half-way through it. Ok, let's go:
Despues del Invierno by Guadalupe Nettel. I've enjoyed reading about Claudio and Cecilia. She lives in Paris and he lives in NYC and their lives intersect when he's in Paris and visiting his friends. He feels an immediate bond with her but is it love? I'm don't like Claudio's character very much so I'm actually hoping she doesn't fall for him but we'll see. My goal is to finish this book by the end of the month.
Out of Bounds by Val McDermid. I've already told you a bit about this one but it's basically a detective in Scotland who works on cold cases. She's struggling as her partner recently died but focusing on a new lead on an old case may help her save herself.
The Address by Fiona Davis. Going back and forth between 1880s and 1980s, this is the story of The Dakota building in NYC. A fictionalized account of one of the landmark buildings of NYC. Sara is the staff manager who left London to try her luck with this new venture and in 1980s we have Bailey who's just left rehab and needs to restart her design career which takes her to do some renovations at the Dakota. I love reading about Sara's story not so much about Bailey and her trials but I'm looking forward to discovering the connection between the two women.
The Farm by Joanne Ramos. Jane's trying to eke out a living for her young daughter and herself so when she's presented with the opportunity to be a surrogate, she thinks this may be the way out. I don't know if there are sinister happenings going on but that's the vibe I had before I started this book and so far that's not the case.
The month is flying by so let's see what I can finish by next week. Hope you all have a wonderful weekend!