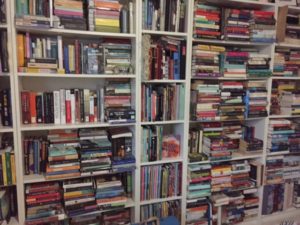 I've been behind on telling you about my current reads but not a lot has changed this month. I seem to not be making much progress but I just blame it on lack of available time. Anyway, here are the books I'm enjoying so far this month:
It Ends With Us by Colleen Hoover. A modern love story with characters that are almost too good to be true but somehow it's totally capturing my attention.
The Awkward Squad by Sophie Henaff. This is very reminiscent of the Department Q books by Jussi Adler-Olsen. A group of misfit detectives get thrown together to solve cold cases. It doesn't seem like the police department really cares whether the cases are solved or not but they just don't want to deal with them. For the lead detective this is a chance to prove their worth. Really enjoying it.
The Ladies-in-Waiting by Santiago Garcia. A graphic novel about the life of Diego Velasquez and how he came to one of Spain's most important artists and his influence on other great artists like Picasso, Miro, etc. I had really high hopes for this one but somehow it's not meeting my expectations.
The Paying Guests by Sarah Waters. I feel like I've been reading this book forever not that I mind. I love the way Sarah Waters writes and the way she depicts characters. It's just a bit more slow reading than some of my other books.
The Dead Girls Club by Damien Angelica Walters. This is one of my R.I.P. reads and it's a story about four girlfriends and the scary stories they used to tell and the terrifying consequences. So far so good!
Haunted Castles by Ray Russell. This book has one of the best covers. It's a collection of stories and the first one is Sardonicus and it is creepy. I love the gothic feel of this story and think I made the right choice in selecting this collection as another of my R.I.P. reads.
Let me know if you've read any of these and what you thought. I hope I get a chance to make some headway into all of these stories this weekend. Then again, I do have a crafty class I'm going to which I can't wait to tell you about it. I hope you all have a wonderful weekend and may you find lots of time to catch up on your reading!