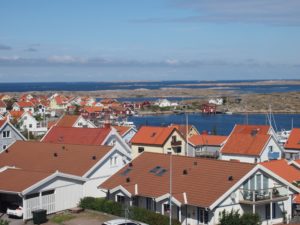 I've finished and started some book since the last time I did a check-in on my current reads, and I thought I'd give you a quick update on what I'm currently reading – basically a lot of mysteries!
Still Waters by Vivica Sten. The first of this Swedish series which starts on a hot July morning on Sweden's idyllic vacation island of Sandhamn, a man takes his dog for a walk and makes a gruesome discovery: a body, tangled in fishing net, has washed ashore. I was in Sweden last year and reading this book is reminding me of when we visited various islands.
The Beautiful Mystery by Louise Penny. I'm listening to this one on my commute and loved the introduction as it has some beautiful Georgian chants. In this installment, Chief Inspector Gamache is called out to a monastery to investigate the death of one of the monks. I know I've said this time again but Gamache is a great character so it's so nice to visit with him again.
The Temptation of Forgiveness by Donna Leon. In this latest series featuring Commissario Guido Brunetti, is investigating the potential drug scene at a local school when things take a much more serious turn and the husband of a friend is fighting for his life after what appears to be a beating. Love the descriptions of Venice and one day, I will go there!
The Spellbook of Katrina Van Tassel by Alyssa Palombo. I just started this one during my lunch hour but I know it's been getting a lot of attention and so far I'm enjoying the re-telling of the Legend of Spooky Hollow. This is going to be my third R.I.P. read.
I also have some others books I began a couple of months ago but I'm not really sure if I'll continue with them or not. I haven't quite decided to throw in the towel on those but at the same time other books I'm much more excited are earning prime space on the nightstand.
What about you? Have you put any books aside lately?