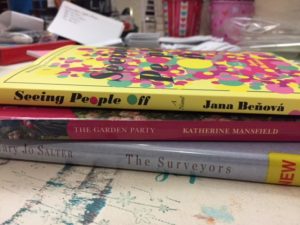 I mentioned in my last post that my reading has been a bit on the slow side but I do have a good variety of books keeping me busy at the moment and I wanted to chat about those for a bit.
First is Seeing People Off by Jana Beňová. This is a short novel but it feels like there is a lot going on as it is mainly about the experiences of Elza and Ian, a young couple living in an apartment complex outside of Bratislava. There are odd neighbors, and lots of noises. The couple feels trapped in their neighborhood but at the same time they seem to just waste their time in cafes. Will definitely be curious to see how this one develops.
Next up is The Garden Party by Katherine Mansfield. As part of the Classics Spin I meant to read The Garden Party but what I didn't realize was that it was a short story. I did read it and loved it but now I want to read the other stories in the collection so that's why this one is on my nightstand.
This morning I started The Surveyors by Mary Jo Salter. Oddly enough one of the poems is titled Bratislava. What are the chances of Bratislava coming up in two of my current reads? I love it when there are little synchronicities in our reading. Anyway, this collection of poems is really enjoyable and feels easy to connect to.
Finally, my evening read (not pictured because it's on my Kindle) is The Child by Fiona Barton and it's the story of an old house being demolished and what is found underneath. I'm still very much in the early stages of this thriller but I'm in. If I remember correctly this one has been a favorite around the blogosphere right?
Let me know if you've hard of some of these, or read them, and what you think.