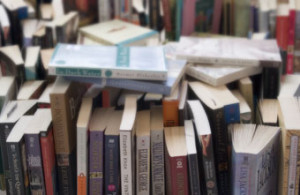 Are you ready for the weekend? I am! Work has been a bit busy this week so I'm looking forward to relaxing a bit over the weekend. Also, I'm looking forward to working out more regularly now that my toe is finally feeling normal. I am still not sure if I broke my little toe or just sprained it but it definitely took a while to feel better. Anyway, on to the books.
There are so many books I've been adding to my radar but here are just a couple that I've recently heard of that I thought sounded really interesting. Let me know if you've read any of these.
Break In Case Of Emergency by Jessica Winter. A young woman strives for professional and personal empowerment in this smart, engaging debut novel. An irreverent and deeply moving comedy about friendship, fertility, and fighting for one's sanity in a toxic workplace.
Behold the Dreamers by Imbolo Mbue. In an accomplished and timely debut, Imbolo Mbue tears away the veil from the American Dream and measures both the uphill grind to achieve it and the lightning-quick ease of losing it.The unforgettable story of a young Cameroonian couple making a new life in New York just as the Great Recession upends the economy.
The Summer that Melted Everything by Tiffany McDaniels. The inhabitants of Breathed, Ohio are experiencing a summer heatwave like the town has never seen before. So it only makes sense that the devil would find it a great place to live. He shows up in the guise of Sal, a thirteen-year-old boy who claims he was invited there by someone in town.
The Altogether Unexpected Disappearance of Atticus Craftsman by Mamen Sanchez. A fiendishly fun and charming novel echoing the quirky works of brilliant director Pedro Almodóvar, the novel follows an uptight Englishman who is sent to Madrid to close a failing literary magazine and the five fiery, close-knit Spanish women who must devise a plan in order to keep the jobs they love. With linguistic mishaps, literary intrigue, a clash of cultures, and an unexpected romance, Atticus Craftsman is at once a humorous literary caper and a touching love story.
Don't you just want to read them all? I do!
Oh my book list keeps growing. And, I'm planning to go scope out a new indie bookstore. Well, new to me even though it's been around for several years but I just haven't made over for a visit. They are having an anniversary sale so wish me luck! Hope you have a wonderful weekend.