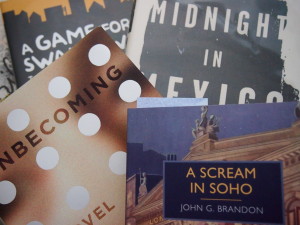 I started off the month with a good variety of books and wanted to talk about those a bit so here are my current reads:
Midnight In Mexico by Alfredo Corchado. This book is a non-fiction account of Mexico's descent into the drug wars. Not a new subject to me as I follow Mexican politics and current events, but it is fascinating to see what led to this. Corchado easily mixes current events along with historical events that explain how this chaos has been able to take hold of the country. This book makes me angry for so many of the injustices that go on in the country of my birth but it also gives me hope that there are people who are willing to expose the truth and believe in something better to come.
Unbecoming by Rebecca Schrem. Grace is living in Paris working as an antiques restorer but everyone knows her as Julie. What they don't know is that she's got secrets, big ones. Meanwhile, two young men are finally freed from prison and Grace knows that her carefully construed life story can come undone. But, is Grace really a victim? A very engaging read so far.
A Scream In Soho by John G. Brandon. Detective Inspector MacCarthy is on the case after a piercing scream is heard in Soho. He takes the reader along through the seedy side of London. I put this one down to read a couple of other books and feel like I sort of missed the urgency in finishing this mystery. I will though but I can't say that it has really grabbed my attention much.
Deeper Than The Dead by Tami Hoag. The year is 1985 and a serial killer is hunting women in California. Four children have discovered the body of a half-buried woman in their quiet Oak Knoll community. This is my audiobook and I'm finding it quite easy to keep up with. The only problem it is quite long and I only use it when I go for outdoor walks so I'm not sure if I'll get a chance to finish it before it is due. I've already had to renew it once.
A Game For Swallows by Zeina Abirached. This graphic novel reminds me quite a bit of Persepolis in its artistic style. Bold drawings convey the serious subject matter, in this case it's the story of Zeina who was born in Lebanon as civil war was tearing apart the country and families.
So there you have it, some books more serious than others but a great variety and a stack I am quite enjoying. I really don't want to add another book to the mix yet but I'm going to have to soon because my mystery book group meets next week and I need to get started on that book.
Let me know if you've read any of these and what you thought.