Folks, I'm "this" close to finishing my springback book. If all goes well I should be done next week – yay! It's looking so nice. Today I had to saw off the excess board, sand the boards and pare the leather I'll be using to cover part of the boards.
Also, I don't know if I mentioned it or not but I did finish my 40 beaded journal books I was working on for a friend. Here's a pic of some of them. I was very happy with the way they turned out although I did have a bit of a screw up on one journal. That's ok, I'll keep that one for me.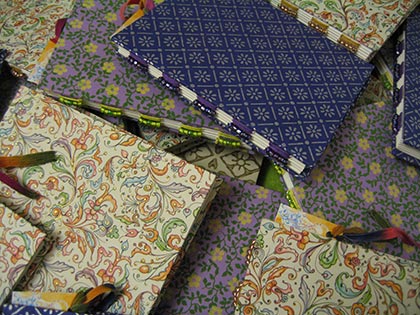 Anyway, it's been a long day. We were without electricity a good part of the day, then it was bookbinding and then I had to run some errands. I'm off to read and I'll catch up with you guys soon!