Tell me the weekend isn't over. I had such a productive weekend and I feel like if I could have just a couple of more days I would be so happy. I'm sure you feel the same right?
My studio is looking so wonderful, well, it could stand to be de-cluttered in a big way but my new bookshelf/table is great. I can't wait to show it to you. Not only that but I think just having more space to store items and such helped me get out of a creativity block. I was able to finish 14 journals and worked through some new ideas. I don't think I've told you but now my husband is joining me in my Etsy shop with some of his calligraphy work.
We also went to the bookstore and I got my latest copy of Art Journaling and I'm very excited to read that it is now going to be a quarterly publication. Yay.
Finally we did go to the Type Truck event and I even got a chance to make my own poster. Very cool and of course it reminds me that one day I want to take a letterpress class.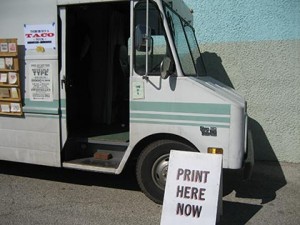 In bookish news I read Me Before You by Jojo Moyes and let me tell you, I haven't been as obsessed by a book in a while. I couldn't put it down. I stayed up very late reading it and finished it all in about a day. Such a great story which I'll tell you a bit more about in another post.
So I hope your weekend was everything you hoped it would be and here's to a great week ahead.