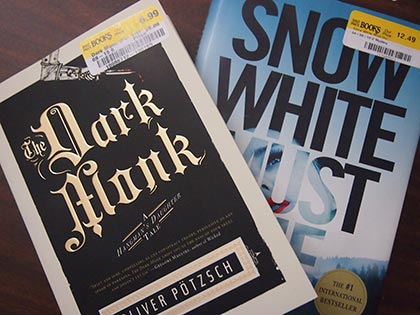 We had coupons for Half Price Books so this weekend we had to make a little stop at our local store. I had a list of authors I was looking for, mainly German authors to find some other titles for potential reads for German Literature Month. My husband didn't find any books but I quickly found two on my list.
The Dark Monk by Oliver Pötzsch is the follow up to The Hangman's Daughter, which I read for my mystery book group last year. I remember thinking the mystery was a bit uneven but it was very atmospheric. It'll be interesting to go back to 17th century Bavaria and see what happens next.
Of course I was sort of looking for a shorter book but if it's anything like the first one, it'll be quite a page-turner.
The other book find was Snow White Must Die by Nele Neuhaus. I'm always lamenting the fact that my German language knowledge is limited especially when I go to German bookstores. I see tons of Krimi books on the shelves and I would love to read more crime novels by German authors but those just don't get translated very much. So this is one that I was very excited about when I heard about it earlier this year. I love police procedurals and I look forward to reading about the German detectives in this story.
Anyway, that's about it. The weekend flew by in a whirlwind of errands, yoga, and bike riding but I'm looking forward to this week because I'm taking a crafty class. I'll tell you more about that soon.