Here is a quick round-up of books I read toward the end of last year that I wanted to give a quick mention to.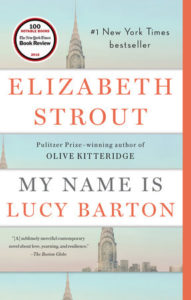 My Name is Lucy Barton
By Elizabeth Strout
Source: Advance review copy
"To begin with, it was a simple story: I had gone into the hospital to have my appendix out. After two days they gave me food, but I couldn't keep it down. And then a fever arrived. No one could isolate any bacteria or figure out what had gone wrong. No one ever did."
While I've been a huge fan of some of Elizabeth Strout's books this one didn't hit the mark for me. Lucy recalls when she is in the hospital recovering from a surgery and what was supposed to be a relatively routine operation has turned into a lengthy stay. Her mother, whom she hasn't seen in years, comes to be by her side. The two share a complicated past that we learn about through Lucy's memories.
I wanted to see some major revelation at the end or some understanding but I feel like nothing much happened and the book just left me wanting and that's why this one was just an ok read for me.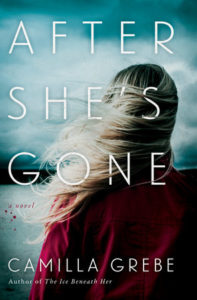 After She's Gone
By Camilla Grebe, Translated by Elizabeth Clark Wessel
Source: Advance review copy
"Dad says that everyone had jobs in Ormberg back then: either on a farm, or in the ironworks, or at Brogrens Mechanical or at TrikaKungen. Now, only the farmers have jobs. All the factories closed, and the jobs moved to China. Brogrens Mechanical stands silent and abandoned, a skeleton of corrugated sheet metal on flat land, and the castle-like brick building of the TrikaKungen textile factory has been converted to refugee housing."
Detective Malin Brundin is sent to Ormberg, her small hometown, to investigate the death of a young child. Her hometown isn't very welcoming to strangers and so she's expected to pave the way for the investigation. Matters are complicated even more when the two others investigating the crime are in trouble. Hanne, a profiler who is suffering from early onset dementia, was found in the forest alone and confused and her partner, Peter Lindgren is missing. The only clue as to what happened to the two lies with a mystery woman who was seen when they found Hanne. Unfortunately the woman they are looking for is Jake, a teenager who has his share of secrets. Although this book features some of the characters from The Ice Beneath Her, I would say it can be easily read as a standalone and if you enjoy Scandinavian crime fiction, then I would say this is a good one to check out.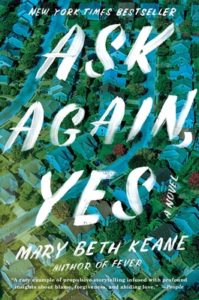 Ask Again, Yes
By Mary Beth Keene
Source: Advance review copy
"Brian Stanhope came bounding down the station house steps. He and Francis had met on the first day of academy, and it was by chance that they'd both ended up at the Four-One. In academy, they'd been in a tactics class together, and after a week or so Stanhope had approached Francis as they were filing out the classroom door. 'You're Irish, right? Off the boat, Irish, I mean?"
These two police officers end up as neighbors raising their young families. For Francis's wife, Lena, she finally thinks this will be an opportunity to have a friend. She loves her home with Francis but it's a bit lonely being away from her family. However, her dreams of friendship will fall by the wayside because Anne Stanhope has a lot of personal struggles. One fateful night will have consequences that will last a lifetime but it is through the years that we see that love and friendship have a way of surviving. I thought this was a beautiful story and at times it was very sad but overall I thought it shared a powerful message on forgiveness. This one ended up being one of my favorite reads last year.
Let me know if you read any of these and what you thought.