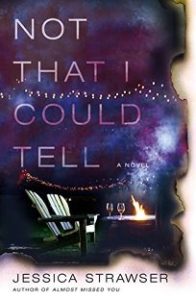 "So I make sure it's obvious to everyone there what happy, healthy, cherished little people my kids are. I never forget to dress them in their pajamas for pajama day. I always sign up to bring the most elaborate snacks to the class parties. I help other moms in the parking lot when their pumpkin seats jam or their strollers collapse. I make a point of knowing all their names. You probably think I care a lot about what my friends think. I don't."
Not That I Could Tell
By Jessica Strawser
Published: March 2018
Source: Advance review copy
One evening a group of women friends gather around in their backyard. Enjoy some drinks, laughs and even sharing some secrets. After the weekend the quaint and calm neighborhood will be never be the same as Kristin, one the women is missing as well as her small children.
Could Kristin's soon-to-be ex-husband, Paul, have anything to do with the disappearance. As the detectives question Kristin's friends, the women realize that they didn't know Kristin very well at all. How come they had no idea that Kristin had inherited a large sum of money from her first marriage after her husband was killed?
The once quiet neighborhood is now under intense media scrutiny. Paul moves back into Kristin's home and meanwhile all the women who were Kristin's friends start to re-think their lives and relationships. Clara and Izzy the other two main women characters have their own issues they are trying to work out and something this major happening in their lives upends what they thought was a nicely controlled new life.
I really enjoyed the description of the town and could just imagine what it was like. I also liked the young girl who is a budding reporter. The character that was harder to get behind though was Izzy. At first I felt bad for her because of her unrequited love but after a while, I'm thinking enough with your pity party. Mostly though while it was an easy story to get into, for a thriller it just didn't surprise me enough.