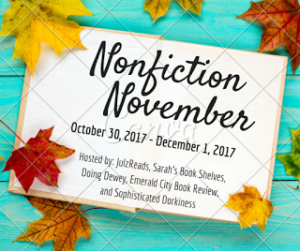 For this week's Nonfiction November post we turn to host Katie at Doing Dewey.  Today I'll be addressing Nonfiction Favorites: We've talked about how you pick nonfiction books in previous years, but this week I'm excited to talk about what makes a book you've read one of your favorites. Is the topic pretty much all that matters? Are there particular ways a story can be told or particular writing styles that you love? Do you look for a light, humorous approach or do you prefer a more serious tone? Let us know what qualities make you add a nonfiction book to your list of favorites.
I think the most important thing for me is that a nonfiction read has to seem like a story. I want to learn new things and reading interesting facts, no doubt, but I don't want to feel like I'm reading a textbook. I want the writer to transport me to another city, timeframe and/or circumstances. Here are some books that I would rank as some of my favorite nonfiction reads in the past couple of years:
While The City Slept by Eli Sanders. A Pulitzer Prize-winning reporter's gripping account of one young man's path to murder–and a wake-up call for mental health care in America.
Midnight In Mexico by Alfredo Corchado. You can read more of my thoughts on this one here.
The Immortal Life of Henrietta Lacks by Rebecca Skloot. Her name was Henrietta Lacks, but scientists know her as HeLa. She was a poor Southern tobacco farmer who worked the same land as her slave ancestors, yet her cells—taken without her knowledge—became one of the most important tools in medicine.
I can't wait to see what others have listed as their favorites. Let me know if you've read some of these.