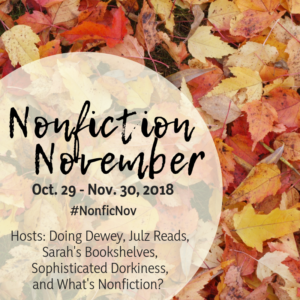 I'm so excited that Nonfiction November is back. In case you are new to this, every Monday the hosts of the event will put up a prompt to get us talking and thinking about nonfiction reads. You can find out more on the dates, hosts and topics for this year by checking out any of the hosts' blogs. Thank you to all the hosts for a great event. Now, let's get started with this week's prompt.
Week 1: (Oct. 29 to Nov. 2) – Your Year in Nonfiction (Kim @ Sophisticated Dorkiness): Take a look back at your year of nonfiction and reflect on the following questions – What was your favorite nonfiction read of the year? Do you have a particular topic you've been attracted to more this year? What nonfiction book have you recommended the most? What are you hoping to get out of participating in Nonfiction November?
One of my reading goals this year was to incorporate more nonfiction reads. Actually this has been a goal for the last few years and I seem to start off with a lot of enthusiasm and will read a couple of books but I end up falling back on my favorite genres.
One nonfiction book I read earlier in the year that I've recommended a lot was How To Travel Without Seeing by Andrés Neuman. The writer is on a book tour and this is basically a look at his travel diary. He spends lots of time in airports, taxis and hotels and along the way trying to see the differences in each country through their writers and poets.
It made me realize there are a lot of Latin American authors I have never read and how I should make more of an effort. I mean, how lucky am I that I can read in Spanish? I seriously have no excuse for not reading books in Spanish. Anyway, I feel like I do stay somewhat in the know about issues that are prominent in Latin America but I think reading more from the various countries' authors can only serve to help me learn more about each country's history and societal concerns.
As for me goals for Nonfiction November, I hope I can finish at least one nonfiction read. No doubt I'll find lots of books I want to read via everyone's posts. I don't really have a particular subject I'm leaning towards but I do have some potential reads I'm interested in so I'll try to do a separate posts on those.
What about you, are you joining in? Are you a nonfiction reader?