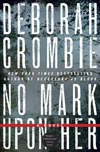 "Two families, for the most part strangers to one another, had spent a long weekend cooped up together in the rambling vicarage that anchored the hamlet of Compton Grenville, near Glastonbury in Somerset, while rain rumbled and poured and the water rose around them. The scene, thought Detective Inspector Gemma James, had all the makings of an Agatha Christie murder mystery."
No Mark Upon Her by Deborah Crombie
Scotland Yard superintendent Duncan Kincaid and his wife Detective Inspector Gemma James are like any other busy couple juggling kids, schedules and now Duncan is about to take some leave to spend time with a new addition to their family but there's the matter of just one investigation he's called in on which is not as simple as it looks.
The body of Rebecca Meredith, a high-ranking detective with the Met, is found in the Thames. What makes this mysterious drowning harder to understand is that Rebecca was an accomplished rower. She was once an Olympic hopeful and now working hard on her comeback.
While Duncan is investigating the rower's club members, an ex-husband and even members of the search and rescue team, which by the way is comprised of some great K-9 members, he comes to understand that some would rather see Rebecca's past in the past. Don't dig too deep or his career could be in jeopardy.
Gemma is not one to be left on the sidelines and she's working with her own colleague on her own line of questioning. Of course in doing so she finds that some leads go back to Rebecca.
For fans of the Gemma/Duncan series this is another good read and it marks the 14th in the series. You'll see many familiar characters and what I like is that these characters are also experiencing changes in their lives. Sometimes supporting characters in series books seem to be stuck doing the same thing but not here. Because of that though I do recommend that you read the series in order. I don't think anyone will feel lost but you might find it more interesting to see the characters from the beginning.
They mystery itself was solid with red herrings and a good resolution but the book was a bit slow for me to get into at first because of all descriptions about rowing but don't let that put you off. And, if you like maps in your books then this series usually has beautiful, detailed maps on the end pages.
Source: Library copy