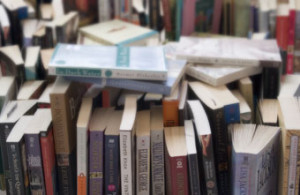 Happy New Year everyone! I hope your year has started off right. As the fireworks were going off last night I didn't think I was going to make it through to midnight but I managed to stay away and wish my loved ones a Happy New Year and opened up my first read of the year.
A dear friend who knows me too well gifted me Upstream by Mary Olive and I thought what a perfect way to start my reading year with this collection of essays. I never read essays so this helps me get out of my comfort zone and a book that focuses on nature and the power of observation sound like a good way to start the year.
"Sometimes the desire to be lost again, as long ago, comes over me like a vapor. With growth into adulthood, responsibilities claimed me, so many heavy coats. I didn't choose them, I don't fault them, but it took time to reject them." 
I really like these lines and have a feeling I'll be jotting more as I continue to read.
Today has been a nice quiet day. We went out for Indian food, spent some time at the bookstore (another New Year's day ritual) and I had a nice time catching up on some blog reading this afternoon. I can't believe my time off is almost over and soon it's back to the office so hopefully I can take advantage of another free day on Monday and read a bit more.
Oh and last but not least my husband gave me two fabulous bookish gifts this Christmas. I got Literary Listography: My Reading Life In Lists. The journaler in me loves this already. And, he also gave me Flow Book for Paper Lovers. I love these special Flow editions. This is my third one and it almost seems bigger than the others. Can't wait to play with the paper.