Happy 2016! I hope you all had a great holiday. Ours was very quiet but nice. We watched The Martian, had the traditional 12 grapes to make our wishes and although we didn't see any fireworks, we certainly heard them going off around town.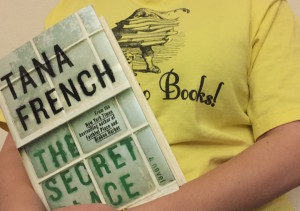 One of my recent traditions has been to start a new book the first day of the year. I was having a hard time deciding what to read but I figured I couldn't go wrong with an author I can rely on and chose The Secret Place by Tana French.
I wasn't sure if I really wanted to start with a mystery as I actually have two more going on and I prefer not to do that but I was spending too much time deciding and just wanted to get started with a new book. Such a bookish problem right?
And, if you haven't yet checked it out, visit Sheila's post on the first book of the year. Lots of bookworms are sharing their first reads. Very cool.
What else, we also went to Barnes & Noble today so I got caught up on some magazines and added more books to my TBR list. Yep, the year is starting off just right.
Hope you have a wonderful weekend. I need to the make the most of it as it's back to work on Monday.