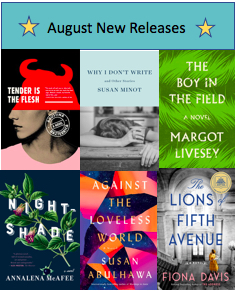 I hope you all had a wonderful weekend. I am back with a post about some new releases this month. Thank you to Netgalley for the review copies.
Tender is the Flesh by Agustina Bazterrica. Working at the local processing plant, Marcos is in the business of slaughtering humans—though no one calls them that anymore. Wow. I think this will be a thought-provoking novel.
Why I Don't Write by Susan Minot. A short story collection where the author explores the many reasons that keep her from writing. I've really enjoyed some of Susan Minot's work so looking forward to this.
The Boy in the Field by Margot Livesey. One September afternoon in 1999, teenagers Matthew, Zoe, and Duncan Lang are walking home from school when they discover a boy lying in a field, bloody and unconscious. Haven't read anything by Livesey yet but I have been curious about her work.
Nightshade by Annalena McAfee. A lean, taut novel about an artist–a painter–at the height of her career, about the art world, about love, fidelity, fame, betrayal, and the large choices and prices paid in the quest for art for art's sake. I love books with an art theme so I'm looking forward to this one.
Against the Loveless World by Susan Abulhawa.  A lyrical novel that follows a young Palestinian refugee as she slowly becomes radicalized while searching for a better life for her family throughout the Middle East. I think this will be intriguing.
The Lions of Fifth Avenue by Fiona Davis. In the bestselling author's latest historical novel, a series of book thefts roils the iconic New York Public Library, leaving two generations of strong-willed women to pick up the pieces. Great setting right?
I don't even know where to start. Let me know which one you'd pick up first and have a great start of the week!