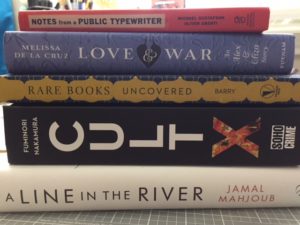 Welcoming May and all the events that it brings. There's a holiday, the anniversary of my dad's passing and a big birthday for me this month but first, let's talk about the books. I've recently received some new books and I want to dive into them now. Here they are:
Notes from a Public Typewriter by Michael Gustafson and Oliver Uberti. The owners of the Literati Bookstore in Ann Arbor, Michigan, put out a typewriter for anyone to use. This book is a compilation of the typed entries. I love that there are also some pictures and this book has great end papers with white typewriter font on a black background.
Love & War by Melissa De La Cruz. It's 1781 in Albany, NY and the war for American independence is being fought but there is also a love affair that is beginning between Alexander Hamilton and Elizabeth Schuyler.
Rare Books Uncovered by Rebecca Rego Barry. A collection of 56 stories of book scouts, collectors and accidental bibliophiles on the trail of rare books. I bet this is going to be a blast to read and will definitely have me thinking about the next time I'm getting creative with some altered books. Ha.
Cult X by Fuminori Nakamura. A story that dives into the psychology of fringe religions, obsession and social disaffection. I read one of his books a couple of years ago and it's what I would say, not for everyone but worth reading. Oh and the end papers on this one could give anyone nightmares.
A Line in the River by Jamal Mahjoub. The writer's family fled Sudan in 1989 and this memoir is about his return 20 years later to rediscover the city where his formative years were spent.
Which book would you start with?