I hope you've all had a wonderful weekend. For those of you in the States, do you get Monday off along with the 4th of July? I have to work but I imagine it will be a quiet day in the office. It's funny though because all weekend I've felt like I'm also going to be out on Monday. I wish!
I caught up this weekend on some errands and we started watching Broadchurch. We had watched the American version, Gracepoint, when it aired so we didn't start with season 1 of Broadchurch and instead jumped in to season 2. I was a bit lost half way through because I kept trying to recall what had happened in Gracepoint. Anyway, now I'm hooked and looking forward to watching the rest of this show.
As far as reading goes, I made some great progress in a couple of books and hopefully can finish both soon but of course new books arrived in the mailbox and so my stacks keep growing. Here is what I got this weekend: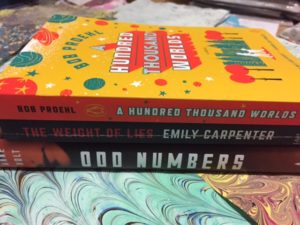 Odd Numbers by Anne Holt. This book is the ninth installment of the Hanne Wilhelmsen series. I don't think I've read any books by this Norwegian author so I'm excited about this book even if it's almost at the end of the series. I think I'm slowly letting go of having to start with the first books in a series. I still prefer that but there's just too many books!
The Weight of Lies by Emily Carpenter. A thrilling drama about a young woman's investigation into the forty-year-old murder that inspired her mother's bestselling novel. Lots of dangerous lies to be uncovered.
A Hundred Thousand Worlds by Bob Proehl. A mother and son travel across country to reunite with the boy's father. Along the way they stop at various comic-cons. This sounds like a sweet story and a lot of fun. I tend to read more about mother/daughter relationships so this will be a nice change of perspective.
Hope you had a great week ahead and if you happen to have a longer weekend to enjoy, well, I'm officially jealous. Hee,hee…