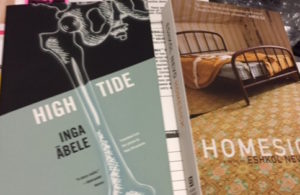 I went to one my local indie bookstores on Saturday, Malvern Books, and could have easily spent all afternoon looking through the shelves. The store is not very large but it has a wonderful section of works in translation, NYRB classics, poetry and of course independent presses. As it was Independent Bookstore day there was also a bookstore crawl event happening which meant that a lot of the visitors to the bookstore were on a scavenger hunt. I saw lots of people taking selfies with books. Too cool.
I didn't do the scavenger hunt but I was on a bit of a hunt. I wanted to find a couple of books that would be outside of my usual reading comfort zone. Here are the two I found:
High Tide by Inga Abele. Told more or less in reverse chronological order, High Tide is the story of Ieva, her dead lover, her imprisoned husband, and the way their youthful decisions dramatically impacted the rest of their lives. I have not read anything by a Latvian author so I'm very excited about this one even though I've read a couple of reviews that make me think this may be a challenging read.
Homesick by Eshkol Nevo. This remarkable, kaleidoscopic novel tells the fragmented stories of a group of women and men brought together by chance in a small neighborhood in the hills of Israel. This is also a a book with a setting very different from the ones I typically read.
Now how about you? Do you have some new books for the month?