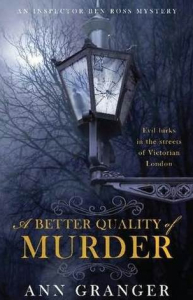 Here we go November. Only two months left of the year and I've got a lot of catching up to do! I've read some great books this year but this will probably be my worst (in terms of volume) reading year. I've barely made it past the 40 mark. I know, I could use another three weeks off in Germany to catch up on my reading. Ha.
Alright that probably won't happen and we all know that the last months in the year are usually crazy with holidays and that sort of thing but let's just say I'm looking forward to seeing what books I discover. I'm really in the mood for comfort reading right now so if you guys have some suggestions let me know.
With that in mind, I picked up A Better Quality of Murder by Ann Granger. Set in London in in the late 1800s, this is an entertaining series featuring Lizzie Martin and Inspector Ben Ross. London fog, Victorian dress and a bit of murder. Get me a cup of tea and I'm ready to enjoy this one!
What else is going on, well just trying to spend more time with my mom, getting ready for a vendor show at the end of the month and celebrating our anniversary. My husband and I recently celebrated 13 years of wedded bliss.
Alright everyone, as I said, I am in need of comfort reads to help me get through some crazy times at work in the next couple of months and just regular life so if you've got some great comfy reads to recommend, I'm ready to take note!