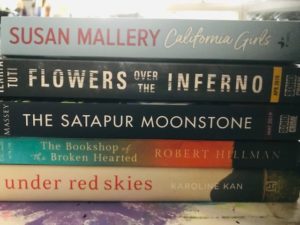 I think I posted a picture of some ARCs on my instagram a few weeks ago but forgot to mention them here so wanted to share these in case they sound interesting to you.
California Girls by Susan Mallery. This looks like the perfect beach read. Three sisters who are dealing with relationship woes decide to take off to the beach to figure out how to rebuild their lives. I think I've read one book by this author and it was a fun, easy read so hopefully this will be the same.
Flowers Over the Infero by Ilaria Tuti. Superintendent Teresa Battaglia is called in to profile a gruesome crime in a quiet village surrounded by the Italian alps. Oh and get this, the superintendent is a woman in her mid-sixties. Not too often do we find a main character of this age in a crime book. I'm really excited about this one.
The Satapur Moonstone by Sujata Massey. This is the sequel to the Widows of Malabar Hill which introduced Perveen Mistry, India's only female lawyer. This is a mystery of 1920s India. I really enjoyed the first book and many others by Sujata Massey so I have high hopes for this one.
The Bookshop of the Broken Hearted by Robert Hillman. Hannah Babel moves from Hungary to rural Australia in 1968 and is determined to open a bookshop. A bookshop? You've got my attention already!
Under Red Skies by Karoline Kan. This is a coming of age memoir set in China and a look at three generations of the author's family. I have not read many books set in China so I think this will be very interesting.
Which one sparks your interest? Let me know if you have any of these on your radar or if you've already gotten your hands on some of these new titles.