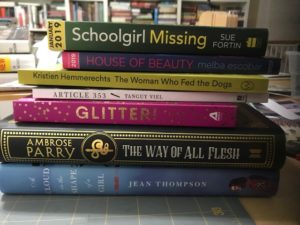 I received several advance review copies in the last couple of months that I never got around to mentioning on the blog so thought I'd share them with you now.
Schoolgirl Missing by Sue Fortin. Her step-mom has a secret. Her father is lying. Everyone is watching. Who do you believe? Sounds like a good thriller from a new to me author.
House of Beauty by Melba Escobar. Narcos meets Claws in this thought-provoking Colombian crime novel set in and around a beauty salon in Bogota. I can't remember the last time I read a book from a Colombian author so I was excited about this one.
The Woman Who Fed the Dogs Kristien Hemmerechts. The most hated woman in Belgium sits in her prison cell preparing for imminent release, laboring through the memories of her former life. I was intrigued by the title and the fact that this is published by World Editions, which specializes in literary fiction from around the globe.
Article 353 by Tanguy Viel. An atmospheric noir novel retraces the steps that led to a murder off the coast of Brittany, probing the relationship between law and justice.
Glitter! published by Adams Media. When in doubt, just add glitter! Yes, a book about glitter fun facts. I admit I've been known to use glitter in my crafting so this one made me smile.
The Way of All Flesh by Ambrose Parry. Edinburgh, 1847. City of medicine, money and murder. I peeked inside and this has a wonderful map on the end pages and you know how much I love that.
A Cloud in the Shape of a Girl by Jean Thompson. A saga about three generations of women who struggle to find freedom and happiness in their small Midwestern college town.
I'm excited by the variety, the novels in translation and basically that all of these are new authors to me. Really excited about these books. Have you heard of any of these or read any yourself? Which one would you start with?