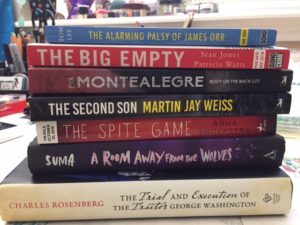 I've been spending some time this week organizing and clearing out stuff and in the process I realized there were some new books that arrived at Casa Bookgirl over the past several weeks that I had forgotten to mention. So here are the new titles that I've added to my shelves. I've also included a short blurb from Amazon beside each title:
The Alarming Palsy of James Orr by Tom Lee. A Kafkaesque and darkly humorous "suburban gothic" that tracks the unraveling of man's body, mind, and life.
The Big Empty by Stan Jones. Police Chief Nathan Active investigates a plane crash out in Alaska's Big Empty—and what he finds there casts suspicion of murder on several locals in his small town of Chukchi.
Body on the Backlot by Eva Montealegre. Detective Joan Lambert works within the fabric of the LA landscape, solving cases with a combined tapestry of plodding police work, bang-on perceptions of the human psyche and guts.
The Second Son by Martin Jay Weiss. Twin brothers Ethan and Jack Stone have built the ultimate transparency app―Stalker―and it's going to make them rich.
The Spite Game by Anna Snoekstra. Mercilessly bullied in high school, Ava knows she needs to put the past behind her and move on, but she can't—not until she's exacted precise, catastrophic revenge on the people who hurt her the most.
A Room Away from the Wolves by Suma. Bina has never forgotten the time she and her mother ran away from home. Her mother promised they would hitchhike to the city to escape Bina's cruel father and start over.
The Trial and Execution of the Traitor George Washington by Charles Rosenberg. A thought-provoking novel that imagines what would have happened if the British had succeeded in kidnapping General George Washington.
I hope these are great. Have you heard of any of these? Which one would you start first?