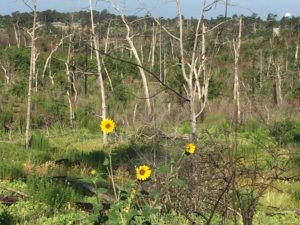 I hope you've all had a wonderful weekend. I celebrated a big birthday (50!) on Friday so we decided to take a little trip. We spent a couple of days in Bastrop and went for a nice hike in Bastrop State Park on Saturday. Several years ago about 96% of the park was affected by wildfires but due to all the conservation efforts there are lots of signs of re-growth. I loved encountering different wildflowers and loved seeing/hearing so many birds. Of course by the time we were done with our three hour hike we were desperately in need of A/C and cold water. It is hot in Texas already.
But moving on to the books. I've been meaning to tell you about these books that arrived in my mailbox. I am excited about these and think I'll enjoy them.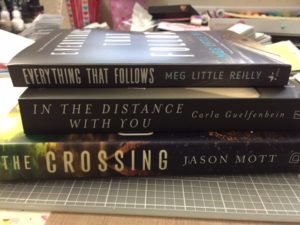 Everything That Follows by Meg Little Reilly. A novel of moral complexity about friends who must choose between self-preservation and doing the right thing in the wake of a fatal boating accident. Set in the moody off-season of Martha's Vineyard. If you are going to a beach this summer this might be the book to take with you. I won't be going to a beach but I can dream with this setting right?
In the Distance With You by Carla Guelfenbein. Vera Sigall, now eighty years old, has lived a mysterious, ascetic life far from the limelight of literary circles. This powerful character has a profound effect on those around her. Spanning from modern-day Chile to the 1950s, '60s and through the years of the Pinochet dictatorship, the novel reveals successive mysteries and discoveries.
The Crossing by Jason Mott. Twins Virginia and Tommy have been on their own since they were orphaned at the age of five, surviving a merciless foster care system by relying on each other. Twelve years later, the world begins to collapse around them as a deadly contagion steadily wipes out entire populations and a devastating world war rages on.
Very different books but all three sound interesting. What do you think?