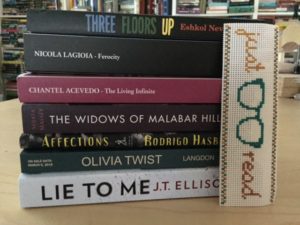 I know I've mentioned a few times that several advance review copies have arrived at Casa Bookgirl and finally I'm getting around to posting about them. I'm really excited about these but before I get into the books, do you see that super cute bookmark next to them? That is from the fabulous Wrecking Ball Design brainchild of Andi. If you haven't checked out her shop, what are you waiting for. She's got stickers for planners, bookmarks and lots of other goodies. Ok, now the books:
Three Floors Up by Eshkol Nevo. This is a bestselling Israeli novel which examines a society in a crisis through the lens of one Tel Aviv apartment building's residents. I have another book by this author which I haven't yet got to but I'm really excited about discovering writing from this part of the world.
Ferocity by Nicola Lagioia. On a stifling summer's night, on the outskirts of town, a young woman named Clara – the daughter of the region's most prominent family of real estate developers – stumbles naked, dazed and bloodied down a major highway. How's that for an opening?
The Living Infinite by Chantel Acevedo. Inspired by true events, the novel tells the story of the Spanish princes Eulalia, an outspoken firebrand at the Bourbon court during the troubled final years of her family's reign.
The Widows of Malabar Hill by Sujata Massey. I loved Massey's series featuring Rei Shimura so I'm excited to see what she comes up with this new series. Not only is her main character a female lawyer in India but this is set during the 1920s.
Affections by Rodrigo Hasbun. A haunting novel about an unusual family's breakdown—set in South America during the time of Che Guevara and inspired by the life of Third Reich cinematographer Hans Ertl.
Olivia Twist by Lorie Langdon. An innovative reimagining of Charles Dickens' classic tale Oliver Twist, in which Olivia was forced to live as a boy for her own safety until she was rescued from the streets. I haven't read a YA book in a while so this could be quite fun.
Lie To Me by J.T. Ellison. Sutton and Ethan Montclair's idyllic life is not as it appears. They seem made for each other, but the truth is ugly. On the book flap there's a line about this being Domestic Noir at its best. I don't think I've heard Domestic Noir but I'm in!
So that's a lot of books and you haven't even seen my new Kindle reads. I think I need to step away from NetGalley but I'm kind of hooked. Anyway, let me know if some of these books are also on your radar or maybe you've even read one of these already. Hope you have a wonderful weekend and more book talk soon!