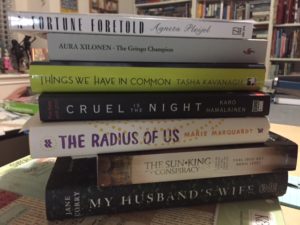 I hope you all had a great weekend. I was pretty lazy all weekend but it felt so good to take naps, drink tea and read! Hm, with the gray skies we've had today I could easily have done the same but I guess a new week, means back to work.
I do have a book haul to share though thanks to various publishers:
A Fortune Fortold by Agneta Pleijel. This is a novel of childhood in the aftermath of WWII and set in the suburbs of Stockholm.
The Gringo Champion by Aura Xilonen. Liborio leaves Mexico to find a better life in the U.S. I think Europa Editions always have some fascinating novels so I couldn't pass this one up.
Things We Have In Common by Tasha Kavanagh. A thriller with a fifteen-year-old girl as the main protagonist.
Cruel Is The Night by Karo Hamalainen. Three cell phones ring in an opulent London apartment. The calls go unanswered because their recipients are all dead. A Finnish thriller.
The Radius Of Us by Marie Marquardt. YA novel about a young girl who is finding it hard to live life after she was mugged in a parking lot one night.
The Sun King Conspiracy by Yves Jego and Denis Lepee. A historical mystery of stolen documents which have the power to change the course of history for France and the Sun King himself.
My Husband's Wife by Jane Corry. When young lawyer Lily marries Ed, she's determined to make a fresh start. But then she takes on her first murder case and meets Joe. A convicted murderer whom Lily is strangely drawn to.
I love that there's a mix of YA, thrillers and fiction in translation. All of these sound interesting and I wish I could jump into them right away but first to clear off my nightstand of some ongoing reads. Have you heard of some of these titles? Which one would you start with?