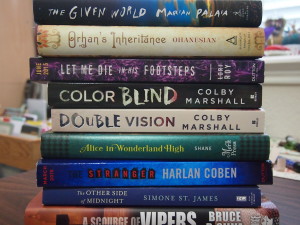 I know I keep mentioning that I've received some Advance Review Copies and in the meantime I've gotten even more. Oh my goodness, this is why I'm on a library ban!
Anyway, here is a look at the first pile of books:
The Given World by Marian Palaia. A sweeping portrait of post-Vietnam America seen through the eyes of a young woman searching for the courage to go home again. I haven't read many books set in this timeframe so I think this could be very interesting.
Orhan's Inheritance by Aline Ohanesian. Moving between the last years of the Ottoman Empire and the 1990s, Orhan's Inheritance is a story of passionate love, unspeakable horrors, incredible resilience, and the hidden stories that haunt a family.
Let Me Die In His Footsteps by Lori Roy. Edgar Award–winner Lori Roy wrests from a Southern town the secrets of two families touched by an evil that has passed between generations.
Color Blind and Double Vision by Colby Marshall. Jenna Ramey is a forensic psychiatrist who has synesthesia and uses her condition to help her read people and situations to catch criminals.
Alice In Wonderland High by Rachel Shane. In this retelling of the classic story, Alice is eager to save the world and falls in with an eco-vigiliante group at school.<
The Stranger by Harlan Coben . He appears out of nowhere, perhaps in a bar, or a parking lot, or at the grocery store. His identity is unknown. His motives are unclear. His information is undeniable. Then he whispers a few words in your ear and disappears, leaving you picking up the pieces of your shattered world.
The Other Side of Midnight by Simone St. James. Glamorous medium Gloria Sutter made her fortune helping the bereaved contact loved ones killed during the Great War. Now she's been murdered at one of her own séances, after leaving a message requesting the help of her former friend and sole rival, Ellie Winter.
A Scourge of Vipers by Bruce DeSilva. To solve Rhode Island's budget crisis, the state's colorful governor, Attila the Nun, wants to legalize sports gambling; but her plan has unexpected consequences.
Looks like I got a lot of good books to choose from. Have you picked up any of these or are any of these on your TBR list?