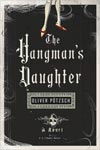 From the back cover: Germany, 1659: When a dying boy is pulled from the river with a mark crudely tattooed on his shoulder, hangman Jakob Juisl is called upon to investigate whether witchcraft is at play in his small Bavarian town. Whispers and dark memories of witch trails and women burned at the stake just seventy years earlier still haunt the streets of Schongau. When more children disappear and an orphan boy is found dead the mounting hysteria threatens to erupt into chaos.
From The Hangman's Daughter by Oliver Pötzsch.
Doesn't this book sound good? I am planning to start this one tonight as it's for my mystery book group discussion next week. It's a bit different from our typical reads so I'm excited. We are finally reading a historical and it's set in Germany so I like that.
I told my husband that he should read it as it was a bestseller in Germany and his response was that I need to get him the German version. My husband reads a lot of art and design books in English but when it comes to novels he prefers to read those in his native language. Isn't that funny?
But back to the book but I couldn't help but notice that it is published by AmazonCrossing. Am I the last person to hear about this? Did I forget about this? Well I love foreign fiction so I'll be on the lookout now to see what new titles they publish.
So, what new book are you reading today?